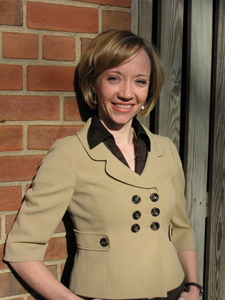 Jennifer Reeder received her doctorate in American History at George Mason University in Fairfax, Virginia. Born and raised in Utah, she earned a BA in Humanities, English Teaching, and Italian from Brigham Young University (1998) and an MA in Human Communication from Arizona State University (2001), with a thesis on Quilts and the Relief Society. She worked for three years as a research historian-documentary editor for the Joseph Fielding Smith Institute for LDS History at BYU, where she co-curated (with Connie Lamb) the exhibition, To Tell the Tale: Preserving the Lives of Mormon Women at BYU's L. Tom Perry Special Collections in 2004.
In 2006, Reeder earned an MA in History, Archival Management, and Historical Editing at New York University, where she worked with the American Jewish Historical Society, the Gilder Lehrman Collection at the New-York Historical Society, the Brooklyn Museum of Art, and the New York Universalist-Unitarian Church Archive.
Her presidential fellowship at GMU placed her at the Center for History and New Media, where she has been involved with the online Papers of the War Department, the National History Education Clearinghouse project with the Department of Education, National History Day, and several Teaching American History grants, as well as programs such as Object of History, and History Matters. She received the 2008 Helen Papanikolas Best Paper on Utah Women's History, awarded by the Utah State Historical Society.
Jennifer advanced to candidacy in spring 2009, with interest areas in American religious history and memory and material culture, and received her doctorate in 2013. Her dissertation, "To Do Something Extraordinary: Mormon Women and the Creation of a Usable Past," examines Mormon women during the Progressive era, with attention to self-identification and heritage as manifested through material culture.