Susan Ware — Chair, Associate Board, Clio Visualizing History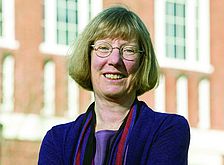 Susan Ware is an independent scholar who specializes in twentieth century U.S. history, women's history, and biography. She graduated from Wellesley College in 1972 and received her Ph.D. from Harvard University in 1978, where she studied under Frank Friedel and Barbara Miller Solomon. While at Harvard, she began her lifelong association with the Schlesinger Library on the History of Women in America at Radcliffe. In addition to consulting its resources for many of her research projects, she has served on the library's advisory board and is currently a member of the Schlesinger Library Council. The library provided a home for the final volume of Notable American Women: Completing the Twentieth Century (2004), which she edited. In 2014-2015 she served as interim faculty director of the library and is currently involved in planning for the library's 75th anniversary as well as the upcoming suffrage centennial in 2020. Since 2012 she has served as general editor of the biographical dictionary American National Biography.
Ware has published widely in the field of 20th century American women's history. Her books include Beyond Suffrage: Women in the New Deal (1981); Holding Their Own: American Women in the 1930s (1982); and, most recently, American Women's History: A Very Short Introduction (2015). She has written biographies of New Deal politician Molly Dewson, aviator Amelia Earhart, radio pioneer Mary Margaret McBride, and tennis great Billie Jean King, as well as a collective biography, Letter to the World: Seven Women Who Shaped the American Century (1998). She was a coauthor of the first five editions of the textbook America's History (1987-2003) and also produced two documentary histories, Modern American Women, and Title IX: A Brief History with Documents. She was also the editor of Forgotten Heroes: Inspiring American Portraits From Our Leading Historians (1998). Her current project focuses on the history of the woman suffrage movement.
Ware has taught at Harvard University, the University of New Hampshire, and Tufts University, but her primary institutional loyalty is to New York University, where she taught as a member of the history department from 1986-1995. Among her graduate students were Lola Van Wagenen and Melanie Gustafson. She has also taught several courses for the Graduate Consortium of Women's Studies at MIT.
In addition to her research, teaching, and editing, Ware has been involved in a variety of professional organizations, including Clio Visualizing History since its founding in 1995. She is active with the Women's Sports Foundation, the Massachusetts Historical Society, the Society of American Historians, the Roosevelt Institute, and the American Repertory Theater at Harvard, where she serves on the board of advisors. She has been a historical consultant to numerous documentary films and has served as a Distinguished Lecturer for the Organization of American Historians since 2002. She divides her time between Cambridge, Massachusetts (right around the corner from the Schlesinger Library and the ART) and Hopkinton, New Hampshire.