Excerpts taken from Suzanne L. Flynt, The Allen Sisters: Pictorial Photographers, 1885-1920 (Deerfield, MA: Pocumtuck Valley Memorial Association; Hanover, NH: University Press of New England).
Secondary Sources about the Allen Sisters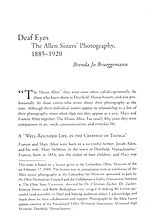 Brenda Jo Brueggemann. "Deaf Eyes: The Allen Sisters' Photography, 1885-1920," in Women and Deafness: Double Visions, ed. Brenda Jo Bruggemann and Susan Burch (Washington, DC: Gallaudet University Press, 2006), 170-188.

This essay is based on a lecture given at the Columbus, Ohio, Museum of Art on 17 February 2005. The lecture was in conjunction with an exhibition of the Allen sisters' photography at the Columbus Art Museum sponsored in part by the Ohio Humanities Council and the Collaborative Public Humanities Institute. Bruggemann pays attention to the factor of deafness in the sisters' photography, as well as situating the the women in their time period and location.