Quilts as Visual History
Carefully stitched flour sacks, calicos, ginghams, muslins, silks, and velvets—intricate circles, blocks, and figures—indelible political, military, social, and religious messages—all embedded within textile treasures, all visualizing particular segments of history in tangible, textured ways.
Quilts reveal cultural, economic, social, and gender history. Often created for ceremonial purposes—weddings, babies, friendship, coming-of-age, departure, death—these textile pieces capture relationships from family and local community, as well as recording events, political and social sentiments, and commemoration with unique female participation. Carefully preserved and passed down through families, then often on to historical societies and museums, these fabric scraps carry with them stories, memories, and historical detail in their patterns. Continue reading >
"Send out an old quilt": Quilts as Homespun War Memorials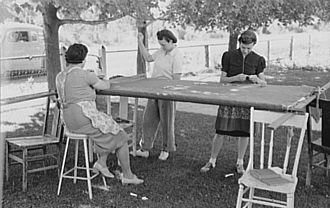 Downloadable PDF documents
Further Quilt Research
Quilts as objects take material culture in innovative directions. For further research, check out this bibliography of articles, books, and a list of annotated websites.