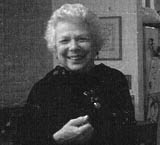 Dr. Naomi Rosenblum is the author of A World History of Photography (1984, 1989, 1997) and A History of Women Photographers (1994), a finalist for the Kraszna-Krausz Foundation Award. She has written numerous articles on Adolphe Braun, Lewis Hine, Paul Strand, and other contemporary American and European photographers.
Rosenblum's co-curated exhibits include the 1977 Lewis Hine retrospective at the Brooklyn Museum, which traveled around the country and to Venice, Italy and Beijing, China, and A History of Women Photographers, shown at the New York Public Library, the National Museum of Women in the Arts in Washington, DC, and other museums.
In 1998, Naomi and her husband Walter Rosenblum were awarded the Infinity Award for Lifetime Achievement at the International Center for Photography.