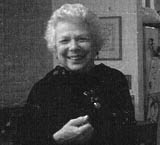 Dr. Naomi Rosenblum, eminent photograph historian, author, curator, and pioneer in the field, has written several noteworthy books and curated a number of significant exhibitions.
Rosenblum wrote A World History of Photography in 1984, revised and reprinted in 1989, with a third edition in 1997. A History of Women Photographers came out in 1994 with Abbeville Press, a finalist for the Kraszna-Krausz Foundation Award. This book was also reprinted twice. Both books have been translated into French, Japanese, Polish, and Chinese. She has contributed numerous articles on Adolphe Braun, Lewis Hine, Paul Strand, and other contemporary American and European photographers to numerous monographs, books, and periodicals.
In 1977, Rosenblum and her husband, noted photographer and teacher Walter Rosenblum, co-curated the Lewis Hine retrospective at the Brooklyn Museum, New York. The exhibit showed at the University Art Museum in Berkeley, the Denver Art Museum, the Chicago Historical Society, the Carnegie Museum of Art in Pittsburgh, and the University Art Gallery in Venice. In 1980 they were invited by the Peoples Republic of China to install this exhibition in Beijing, the first official loan from an American museum to China.
Other exhibits include A History of Women Photographers, curated by Rosenblum and Barbara Tannenbaum, shown at the New York Public Library, the National Museum of Women in the Arts in Washington, DC, the Santa Barbara Art Museum, and the Akron Art Museum. Rosenblum curated with Susan Fillin-Yeh Documenting a Myth: The South as Seen by Three Women Photographers at the Douglas F. Cooley Memorial Art Gallery, Reed College, in Portland Oregon., 1997.
In 1998, Naomi and Walter Rosenblum were awarded the Infinity Award for Lifetime Achievement at the International Center for Photography.