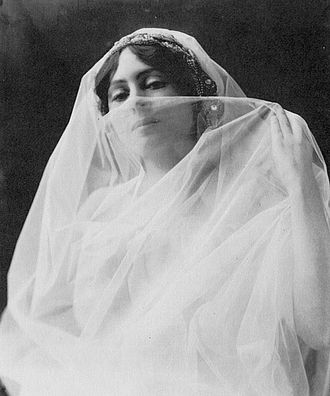 Though she never won the critical acclaim of Alfred Stieglitz or other artistic photographers of her day, she did concentrate on photography as an art form.
In 1898, the year she exhibited at the New York Camera Club, she sent some prints to Stieglitz, and he wrote to her that "your work is capital, & I shall be glad to see more of it when you get to New York." That she thought in artistic terms often comes through in her observations. "It is wrong to regard photography as purely mechanical." (It was mechanical up to a point, she conceded.) "In portraiture, especially, there are so many possibilities for picturesque effects—involving composition, light and shade, the study of pose, and arrangement of drapery—that one should go for inspiration to such masters as Rembrandt, Van Dyck, Sir Joshua Reynolds, Romney and Gainsborough rather than to compilers of chemical formulae."
Her contribution to photography was not in technology or in artistic innovation but in excellence as a practitioner of her art. "I wore out one camera after another," she bragged, "and I never had any of those fancy gadgets. Always judged exposure by guess." Once a technique worked she often stuck with it, perhaps at a sacrifice to experimentation. She used the developing agent Eikonogen, for example, long after most photographers had abandoned it as obsolete. Perhaps her genius was in doing the ordinary exceptionally well.
Though Johnston did mostly documentary and portrait photography in the 1890s, she earned a reputation as an artistic photographer, one of the vanguard.