Press Release / December 2011
Exploring the Characters & History Behind the Film
"Lawrence of Arabia" As It Turns 50
― 2012 marks the 50th anniversary of the film "Lawrence of Arabia" and a one-of-a-kind online exhibit explores the real characters and history behind the big-screen depictions ―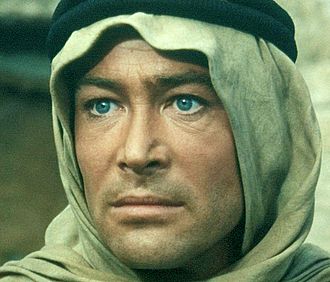 Shelburne, Vt. ― One of the best-known films of all time, "Lawrence of Arabia" will celebrate its 50th anniversary in 2012. Directed by David Lean and starring Peter O'Toole, Alec Guinness and Anthony Quinn, this major motion picture is said to have been based on the biographical writings of British officer T.E. Lawrence, who would become known to the world as Lawrence of Arabia, as well as Lowell Thomas' best-selling book "With Lawrence in Arabia."
A recently launched online exhibit, "Creating History: Lowell Thomas and Lawrence of Arabia" (http://www.cliohistory.org/thomas-lawrence/movie/), explores the legend and legacy of historical figures who have become known to many only through their big-screen depictions.
At the heart of the online exhibit is a focus on the lives and legacies of the real-life Lawrence of Arabia and the entrepreneurial American journalist who made him famous: Lowell Thomas. While searching for a World War I success story, Thomas was in Jerusalem when he first encountered Lawrence, who was dressed in Arab robes and had helped capture the Turkish port of Akaba. With a cameraman in tow, Thomas followed Lawrence into the desert, turned his footage into a multimedia spectacle seen by millions of people in 1919 and 1920, and helped create the Lawrence of Arabia legend. Lawrence's new celebrity and brilliant mind later earned him a seat at the table when the map of the Middle East was redrawn.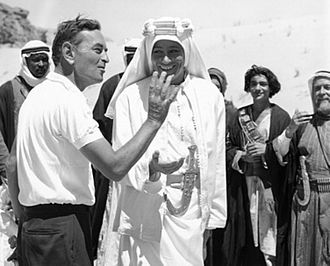 The legend was brought to millions more people around the globe with the premiere of David Lean's film in 1962, and the fascination with T.E. Lawrence persists to this day. In fact, over 20 new books on Lawrence were published from 2000 to 2010 (see a bibliography at www.cliohistory.org/thomas-lawrence/library/books/).
The Lawrence of Arabia legend spawned many books and historical papers with a multitude of perspectives on Lawrence's widely debated role in World War I and the Arab Revolt. The online exhibit presents a wide spectrum of perspectives on this controversial man who is said to have had "a genius for backing into the limelight."
In a chapter of the exhibit that examines the "Lawrence of Arabia" movie, Steve Caton, Professor of Contemporary Arab Studies at Harvard University and author of Lawrence of Arabia: a Film's Anthropology, writes: "In genre terms, ["Lawrence of Arabia"] is considered an epic adventure film, telling the story of an heroic individual, the British intelligence officer T.E. Lawrence, and his struggles against enormous natural and political odds to win the freedom of the Arabs against the Ottoman Turks in World War I. But viewed in a different light, especially when one bears in mind the criticism of western imperialism that emerged in the 1960s among left-wing intellectuals and artists (some of whom worked on the film), "Lawrence of Arabia" can also be viewed as an anti-epic or as a probing critique of the romantic hero and the ultimately tragic situation that destroyed him."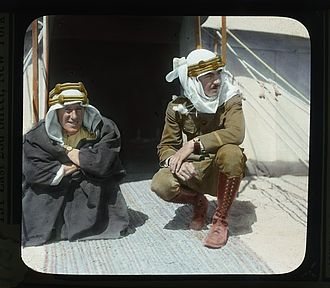 Caton continues, "Indeed, Part One of the film is cut in the mold of a classic epic movie, whereas Part Two, a darker, more inward-looking, and more cynical look at the classic hero, seems to be its antithesis."
Visit www.cliohistory.org/thomas-lawrence/ to learn more about the history and people behind the Lawrence of Arabia legend and legacy. The "Creating History: Lowell Thomas and Lawrence of Arabia" multimedia history exhibit was produced by Clio Visualizing History and filmmaker Richard Moulton. Contributors included historians, librarians, educators, and Thomas and Lawrence experts.