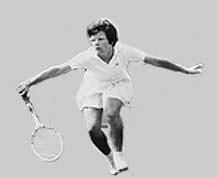 The Battle of the Sexes is the story of the Billie Jean King and Bobby Riggs tennis match which became what Time magazine called "the tennis match of the century." The film uses the match as a lens through which to view the social, political, and cultural turmoil that characterized American life in the early 1970s. Following a strong chronological narrative, the film tells the dramatic and engrossing story of how this historic sporting event came to be and will explore the reasons it so enthralled the nation and made Billie Jean King the most watched female sports star in American history.
Although thirty years have passed since The Battle, most Americans of a certain age can tell you where they were when the match was played, who they rooted for, and how they felt when it was all over. Few cultural events have so captured the nation's imagination, and fewer still have so clearly underscored the vital and hotly contested issues of their time. At once a narrative about the growing influence of the mass media, the ascendance of women's sports, and the (at times bitter) struggle over gender equality, the match serves to illuminate a critical moment in American history when some of the nation's most fundamental and deeply-held assumptions about gender were turned on their head.
Along the way, the film examines the mounting power of the media and popular culture, the rise of women's tennis, the fight for economic equality in the sports arena, and the larger story of the women's liberation movement in the key years of the early 1970s. In so doing, the film offers a lively and engaging look at a transformative era in American history and a fresh perspective on sexual politics in America.
The Battle of the Sexes, directed by Lisa Ades, produced by Lisa Ades and Lesli Klainberg, executive producer Lola Van Wagenen.