Clio's documentary film proposals grew out of the collaborative effort of a group of historians brought together to discuss history as presented on television and in documentaries. During Clio's three-day workshop, these scholars discussed the impact of television and feature films on shaping concepts of American history as well as their own experiences with film, both as historical consultants on a variety of documentaries and as teachers screening films for the classroom. All concurred that there is a critical need for high-quality documentaries which are engaging and educational, employing intellectual rigor as well as a compelling narrative. Focusing on the dearth of documentaries relating to women (other than biographies), workshop members developed a list of potential topics for a series on women's history and a list of criteria for making films on historical women's topics.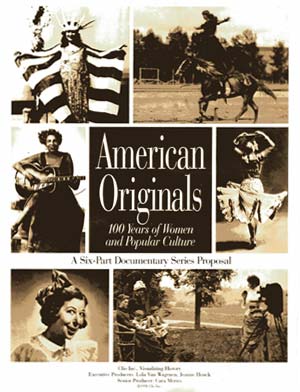 Every time someone laughs at a classic Lucille Ball gag, there is an echo from the vaudeville stages of a hundred years ago. Each Dorothea Lange photograph contains the shadows of an unknown woman focusing her camera decades before. When Aretha Franklin or Bonnie Raitt sings, the influence of women pioneers in blues, country, and other American grass-roots music traditions is heard. Famous and anonymous, all of these women have been part of one of the great stories of the 20th century: the creation and evolution of American popular culture.
American Originals: 100 Years of Women and Popular Culture is a documentary series about 20th century American popular culture and the women who made it their own. In creatively contributing to a society that often limited political and economic opportunities, the women of American Originals not only found a place and means for personal expression, but they forever changed the country's cultural life.
American Originals reintroduces viewers to long-familiar traditions and artistic practices from a new perspective, combining social history and biography against the backdrop of the 20th century. For the first time audiences will witness the century-long drama behind the creation of such enduring and controversial American symbols as Miss America and the American cowgirl, as well as seeing the impact that women have had on the popular culture of the country through music, sports, dance, photography, and comedy. Each film will link the ongoing achievements of today's "American originals" to their predecessors from the past, creating a hundred-year lineage of creativity, challenge, and change.
A talented group of award-winning filmmakers experienced in historical documentary are working with us at Clio, using their skills to address questions of history and visual storytelling in sophisticated, engaging ways for a general audience. We are committed to using the highest quality archival materials, the most up-to-date research, and the best specialists available for each subject. The incredible historical resources in film and photography alone are unparalleled in their exciting illustrations of life in another time. In some cases, because we are doing research on previously unexplored topics, our work will help to create new print and musical archives and resources.