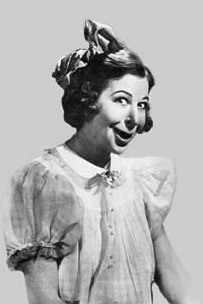 Women and American Comedy
Don't Make Me Laugh looks at the incredible impact of women comedians on American comedy from the turn of the century through today. Though the old stereotype that "women aren't funny" has been thoroughly discredited by the genius of Lucille Ball, Gracie Allen, and other mid-century woman comics; for many decades, being a woman comic was a particularly thankless calling. From stage traditions like vaudeville and minstrelsy, to radio, cinema, and television, women have had to find creative, innovative approaches to successfully enter the male-dominated world of comedy.
According to a 1909 newspaper editorial, "measured by the ordinary standards of humor, a woman is about as comical as a crutch." Though an extreme view, society, until recently, has not been very supportive of women comedians. Rare exceptions like Sophie Tucker, Marie Dressler, Trixie Friganza, Mae West, and Fanny Brice became stars in the early years of the century, and they are the inspiration for this film. Don't Make Me Laugh brings to light how earlier comic traditions have paved the way for today's abundance of women comedians. Interviews with such well-known comedians such as Carol Burnett, Goldie Hawn, Lily Tomlin, Mary Tyler Moore, and Whoopi Goldberg, as well as an array of outstanding new feminist comedians will link today's comic tradition with yesterday's innovations.