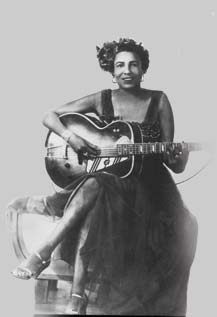 Women's Lyrics and Grass-Roots Music
In Other Words traces the history of women who have used their musical skills to communicate their experiences, exploring the lives and songs of women from various regional traditions, including Country, Blues, Cajun, and Tejano.
Beginning in the late nineteenth century and continuing to the present, the songs of American women left not only a rich musical legacy, but also a vivid record of the social and economic context of their lives. Through their lyrics, women expressed changing notions of sexuality, motherhood, and marriage, putting into poetry the experiences of hopelessness, deprivation, and the frustration of a life with too few options.
Music speaks powerfully to its audience about its deepest hopes and fears. At its best, it touches on the humanity of both performer and fan. From the time when lyrics could say what women could not, singing and writing songs provided women a rare outlet for expressing rebellion, lamenting hardships, and voicing optimism.
"No songs are so popular as the ones that tell stories," wrote "song-saver" Jean Thomas. She was part of a long tradition of women who have made it their business to rescue traditional music from obscurity, and it is upon her research and the work of countless others that In Other Words will be based. The film will also show how the lives and musical heritage of such early performers as Lydia Mendoza, Victoria Spivey, and Rose Maddox provided the inspiration for performers as diverse as Janis Joplin, Selena, Loretta Lynn, and Erykah Badu.