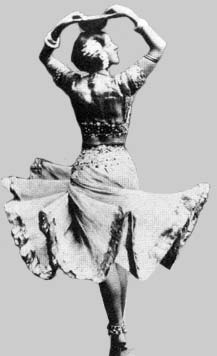 Inventing American Modern Dance
Dancing on the Edge traces the development of modern dance from its hybrid origins in the 1890s in the unique person of popular chorus girl Ruth St. Denis. Chronicling the century-long experimentation in what has become modern dance, the film searches out the relationship between popular cultural inspirations and the development of modern dance as an art form. How has modern dance continually been an arena of experimentation for defining the limits of movement and the possibilities of the human body in space?
In the 1890s, Ruth St. Denis was performing in theater and in vaudeville. Drawing on her experience as well as her working-class roots and love of spectacle, St. Denis turned a typical turn-of the century Orientalist cigarette advertisement into inspired characters that were an exotic, outrageous cross between performance, dancing, and acting, in a completely original style that had never been seen before.
St. Denis became a national sensation and was one of the first promoters of an entirely new form of dance called '"art-dance,'" or aesthetic dance. In keeping with an age fascinated by speed and motion, art-dance was about constant movement, not stillness. It revolutionized society's conception of movement in performance, creating an entirely new approach that is captured in famous images of St. Denis and Isadora Duncan.
St. Denis' dance company, Denishawn, trained the first generation of modern dancers, including Martha Graham. Current performers including Elizabeth Streb, Urban Bush Women, Anne Carlson, and Trisha Brown bring this tradition into the present. The creative team for this film is currently being formed.