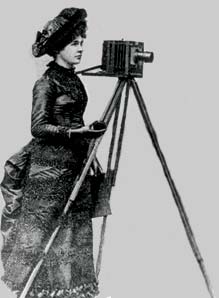 Women and photography have been linked since 1888, when Eastman–Kodak launched the first national mass advertising campaign the country had seen. It introduced Americans to "the Kodak Girl"—a pretty young girl full of curiosity and pluck, toting a Kodak camera. The campaign was a success, and the Kodak girl's real–life counterparts spent decades capturing astonishing images of a long–gone America. Their work speaks to us as urgently now as it did 100 years ago, seeming contemporary in their humor, liveliness, and poignancy.
By 1900, thousands of working and middle class women seized the opportunity to work as photographers, comprising over 1/4 of America's professional registered photographers. Catching the Shadow focuses on events over the course of one year (1899–1900) in the life of Francis Benjamin Johnston, one of America's most prominent photographers at the turn of the century. Using her professional activities in a remarkably prolific year, we can see the nascent but powerful intertwining of photography and society in prescient and dramatic terms.
Through our focus on Johnston's activities as a central narrative, Catching the Shadow traces the lives and work of women photographers working between 1860 and 1900, women who knew Johnson personally or by reputation. In this way the film reveals the vibrant but historically ignored role that women played in the development of the medium by exploring how photography became one of the first acceptable professions women could enter, as well as a popular choice for women to pursue creative expression.
Catching the Shadow: America's First Women Photographers received a scripting grant from National Endowment for the Humanities in 2004.