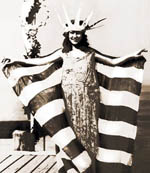 Tracking the country's oldest beauty contest—from its inception in 1921 as a local seaside pageant to its heyday as one of the country's most popular events—Miss America paints a vivid picture of an institution that has come to reveal much about a changing nation. The pageant is about commercialism and sexual politics, about big business and small towns. But beyond the symbolism lies a human story—at once moving, inspiring, infuriating, funny, and poignant. Using intimate interviews with former contestants and behind–the–scenes footage and photographs, the film reveals why some women took part in the fledgling event and why others briefly rejected it—how the pageant became a battle ground and a barometer for the changing position of women in society.
Miss America, directed by Lisa Ades, produced by Lisa Ades and Lesli Klainberg, with executive producers Lola Van Wagenen and Jeanne Houck, was broadcast on PBS–American Experience on 27 January 27 2002 and rebroadcast on 20 December 2004. It has also appeared at film festivals including Sundance and South by Southwest.
To order a copy of the film, please visit Women Make Movies. For teaching materials and a transcript of the documentary, please visit PBS American Experience.
Additional Production Information